Built in 1992 at the renowned Bordeaux shipyard (CNB), the vessel displays that special line invented by its architect Philippe Briand, which has become a classic amongst great luxury sailing ships. Back from many travels to the South, including a Round the World tour for its maturity, we promised it the Great North.
To get it ready for this new life, we prepared and fully redressed it to enable passage through those icy lands. For underwear, we carefully coated it with a thick layer of foam insulating the hull from the interior space. For keeping us warm in its heart, it has now central heating and many radiators and aerators. Gone are lightweight hats and other bikinis, plexiglas and aluminium guards now cover the central cockpit like a transparent ushanka hat, sheltering the guests from high winds and seas.
25 years of age already, it was about time to open its eyes to the latest technologies : Internet, Satellite, LED Lighting, Wi-Fi, Energy Optimization, etc.
But times change so why should the crew be cut off from our guests throughout those adventures and thrilling moments ? We have put together dining and card tables, the open kitchen and the living room in the same wide living space, thereby providing a grand convivial area.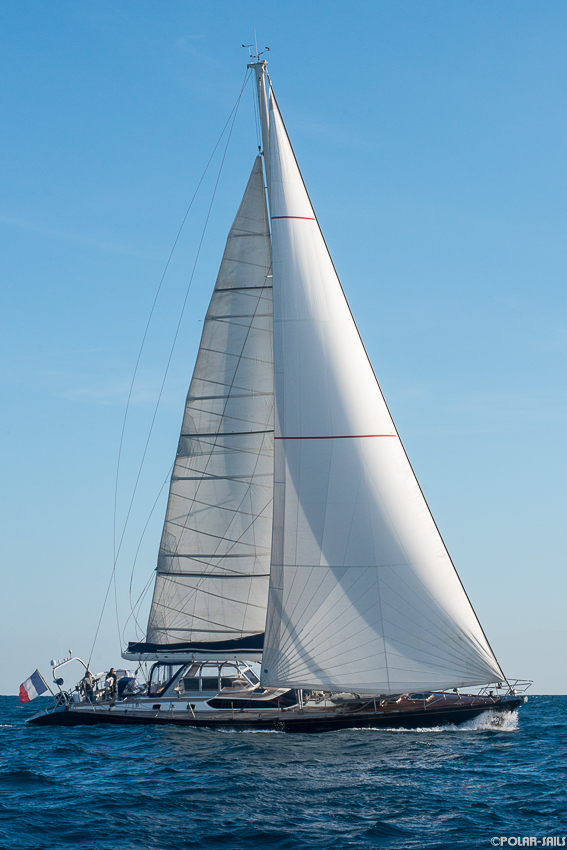 Leatsa is a CNB76 sailboat, registered to trade and sailing under the French flag.
Outfit :
Ensign : French (RIF)
Type : Merchant ship
Distinctive number : RI 934984
Crew : 2/3
Class : 1st Offshore
Construction :
Manufacturer : CNB 76
Year : 1992
Architect : Philippe Briand
Complete refit in 2015-2017
Features :
Hull : All-aluminium monohull
Gross Tonnage : 56 GT
Length overall : 23,20 m
Beam : 6,1 m
Draught : 2,50 m
Ballast : 14 t
Displacement : 43 t
Diesel engine : 85 kW
Fuel capacity : 2800 L
Freshwater capacity : 2000 L
Drinking water capacity : 180 L
Black water capacity : 1200 L
Rigging :
Type : Cutter
Sail area : 240 m²
Mast height : 29 m